BECKFOOT'S YOUNG DESIGNERS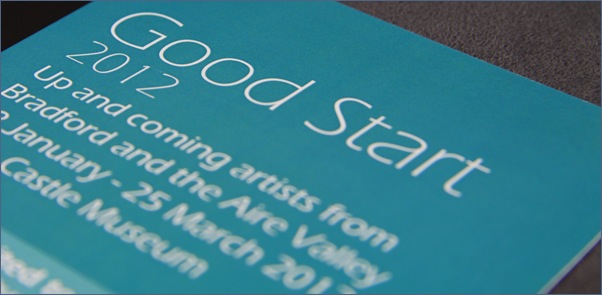 A group of talented young designers from Beckfoot School in Bingley have a bright future ahead. As part of the Good Start programme Out of the Blue worked with Beckfoot's School's Graphics students who were briefed to produce an invite for the 2012 Good Start exhibition. The students were presented with a crazy tight deadline and showed commitment beyond their years to deliver a finished piece of print ready artwork in record time, working right up to the last day of term and missing all the schools festive activities - including the teachers panto!!!
Graphics teacher Mrs Allsuch was an inspiration and it was refreshing to encounter such positivity and enthusiasm from both tutors and students alike. We had a great time working with the promising young designers and we wish them well in their future careers. Good Start is showing at Cliffe Castle Museum from 28 January – 25 March 2012.
Good Start, an annual art exhibition provides a fantastic opportunity for Sixth Form students from Bradford schools to be both inspired by and exhibit in a professional gallery setting. Through practical workshops students learn more about the work of practicing artists, explore techniques and are creatively inspired by the rich and varied collections in Bradford's Museums and Galleries.
http://www.beckfoot.org