03/04/12 15:08 Filed in:
Cycling
| Photography
<!—#myExtraContent3>
Brockhole Visitors Centre on the banks of Lake Windermere was the location for the 2011 Rapha Supercross Series. Out of the Blue were given a fantastic opportunity to capture this super-charged cyclocross event through a lens. The setting, as you would expect, was amazing and the super-stylish hosts Rapha put on a spectacular show with their uber-cool branding displayed across the route. Here is a small snap shot of the day. You can read more over at our blog
here
.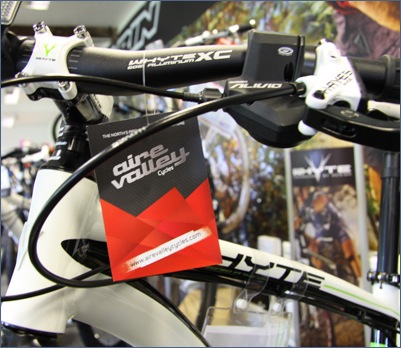 Having successfully re-branded and rolled out the launch material for Aire Valley Cycles, Out of the Blue have designed and printed a range of bespoke branded gift vouchers. Colour coded in values and featuring co-ordinating envelopes these smart vouchers sit in a distinctive cascading counter top display stand. Adding to the overall customer experience Out of the Blue have also designed and produced branded receipt holders, and branded swing tickets designed to hang from the clothing and cycles in poly covers. Recent promotions include the National Junior Championships sponsorship where we designed Aire Valley Cycle's official programme advertisement and a special Junior Championships business card sized promotional roll fold discount voucher. Plus, social media fans can now follow Aire Valley Cycles on Twitter and find out all the latest cycle related news on their new branded twitter account @airevalleycycle.